With the introduction of OS 3.0, Apple enabled A2DP capability on the iPhone, making it possible to use Bluetooth stereo headsets with the device. Unfortunately, there are performance issues associated with Bluetooth stereo, causing the audio to skip when you use another app while listening to music. You may also have problems with the audio getting out of sync when playing a video.
The problem seems to be associated with the operating system's priority scheduler, which allows the OS to allocate time to different tasks. It appears that the iPhone's interface has a higher priority than A2DP, and anytime a user tries to interact with an iPhone while it is playing music over Bluetooth, the audio can skip. It would be nice if Apple would add a setting that would give Bluetooth a higher priority and included better video/audio synchronization in a future version of the OS. (My iPhone Life colleague Werner Ruotsalainen has an in-depth post on this subject. To read it, go to iphonelife.com/blog and do a blog search on "A full compliance & test report" to find it.) Fortunately, Apple has a track record of enhancing their products and I fully anticipate these performance issues will be addressed.
Even with today's Bluetooth implementation, there are some diverse Bluetooth stereo accessories worth checking out. I've been playing with some of them for the past few months and will give my impressions of them.
Motorola S9 earbuds
$129.99; store.motorola.com
The MOTOROKR S9 is Motorola's current generation of Bluetooth stereo buds. Their small, lightweight form factor makes them easy to wear for longer periods of time and are especially well suited for running, bicycling, and similar activities. However, the control buttons on the headset were a little too small to make this a practical choice for me.
Motorola HT820
$ varies; available through third-party online vendors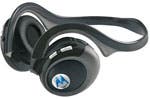 I actually prefer using Motorola's previous generation device, the HT820 Bluetooth Stereo headphones. The HT820 has an over-the-ear design with larger buttons that are easier to locate and press. In addition, it can be connected to a standard audio jack with a cable that comes with the device, which comes in very handy if you want to avoid the $2-$5 airlines charge you for headset rentals. Motorola has discontinued this model, but it's still available through a number of online retailers, discounted in some cases to under $40.
Insignia Portable MP3 Speaker
$29.99; bestbuy.com
This nondescript rectangular box looks a little like an iPod speaker dock. There is a recessed slot on the top of the cube where you can rest your iPhone, but it doesn't function as a dock for charging or syncing. All music is transmitted from the iPhone to the speaker via Bluetooth. I wish the slot on the top were a little wider, so you could rest the iPhone in a horizontal mode while watching a ...