I have always been a music aficionado.  If there is one thing I have learned over the years, however, it is that while good headphones may not make a good song great, bad headphones can certainly make a great song sound terrible.  Which is one reason I have always been so interested in reviewing higher end headphones, earphones, and ear monitors (terms which I will likely be using somewhat imprecisely and interchangeably). 
Even the highest end earphones can still only go so far before even they start to show their inability to keep up.  Specifically, there are two problems with even the best earphones. First, they use universally sized buds.  Sure, you can generally choose between three or more sizes, but ears do not come in preset sizes, meaning no matter how many sizes they offer, they still may not provide the right fit.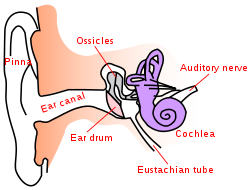 (image compliments of Wikipedia )
Second, universal earphones fail to acknowledge that every ear canal is not made equally.  This would not be a problem if there was a straight line path from the Pinna (outer ear) to the ear drum.  That however, is rarely the case.  More often, the ear canal consists of numerous peaks, valleys, and maybe even a few twists and turns.  If your earphones are not aimed properly, then you may be pumping sound straight into a wall…meaning most of the sound waves will never reach your ear drum, or could sound imprecise when you do hear them. 
Custom earphones solve both of these problems by crafting the ear phones or monitors specifically for your ear.  This ensures a perfect fit, every time, since you do not need to worry about squeezing the imprecise rubber buds into your ear.  Incidentally, because the custom ear monitors are crafted specifically for your ears, they are also going to create a much more perfect seal, meaning better noise isolation than universal buds could provide.  Finally, since these monitors are designed to fit only your ear, they are made to match all the peaks, valleys, twists, turns, and other imperfections inside your ear.  That means they will always end up pointing straight down your ear canal, firing the sound waves directly into your ear drum, which ensures a far more precise musical experience.
In order for me to obtain the JH 16 custom ear monitors, I would first have to have a set of ear impressions made.  These ear impressions would be sent along to JH Audio, which they would use to make my ear monitors.
So, this morning, I went to visit Mark Grote, a Hearing Technician at The Hearing Health Care Center of Manassas, Inc.  Mark specializes in digital hearing aid technology,and is pretty much the resident expert on making ear impressions, so I felt that my ears were in pretty good hands with him.
The first thing Mark did was give me ears a quick exam, in order to make sure t...